How Daft Punk Scored Its First Record Deal
In 1993, Stuart McMillan and his DJ partner Orde Meikle signed the then-unknown French duo to their label Soma Quality Recordings. Here, McMillan recounts his early history before they became robot titans.
At 365 releases and counting, Soma Quality Recordings isn't just one of the most prominent independent labels in the world of house and techno—it's one of the most prominent independent record labels, period. Combing through Soma's massive catalog is like reading a who's who in the world of electronic music—Silicone Soul, Gary Beck, Carl Craig and Ricardo Villalobos are just a few of the DJs and producers who have released projects on the imprint through the years.
Positive Education
Slam
But above all, there's one name that really sticks out: Daft Punk. The French duo's first material was released in a series of EPs on Soma, including several tracks that made their way onto Daft Punk's seminal 1997 debut album, Homework. While Thomas Bangalter and Guy-Manuel de Homem-Chriso are best known for funk, disco and '80s-infused French house, many of the early Soma records showcased a harder, techno-driven sound that was more reflective of what they were hearing in clubs at the time than their taste in retro music.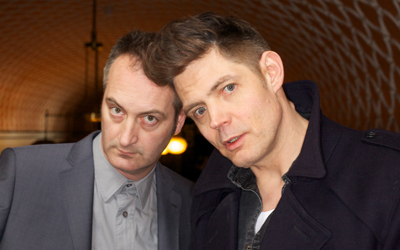 Founded by Slam (Stuart McMillan and Orde Meikle), Glenn Gibbons, Dave Clarke and Jim Moutune in 1991, Soma Quality Recordings recently celebrated its 20th anniversary with a with a three-CD release that included "Drive,"an unreleased Daft Punk track recorded in 1994. With Daft Punk's new album Random Access Memories (Columbia) in stores earlier this week, Stuart McMillan (pictured above, right) gives us a glimpse at what the enigmatic French duo was like before it went full robot.
Random Access Memories
DAFT PUNK
There was a big party in France just outside the Euro Disney complex, with a whole lot of DJs there. We were playing with Sven Vath and a few others. We had a couple days in Paris, and these two kids got in touch. They wanted to hook up and meet us. We'd never met them before and didn't really know what kind of music they made; we just knew they were two French guys called Daft Punk, which was a rather bizarre name. At that point they were like, 18 or 19, two young kids. So we met the guys, and they played what became the first release on Soma. One of the tracks made it onto Homework actually—"Alive."
Alive
DAFT PUNK
When we heard the material at first we were like, this is pretty different stuff. Even different from what Daft Punk eventually made or became known for, because initially the tracks were pretty banging techno. What a lot of people don't remember or mention too much was around that time we had a lot of European techno, but there was also the music coming from Detroit and a big Chicago house movement.






So initially, the influences were probably more leaning towards the techno. But at the same time, house and techno sort of became synonymous with each other. You were getting Chicago guys banging out rhythmic tracks. They were big fans of DJ Sneak and Cajmere and all those guys as well. If you listen to Homework or you listen to a lot of the early Daft Punk records, they have a big Chicago house sense to them as well.
But you could tell from listening to those tracks in particular that there was some kind of quirky style or something that was somehow kind of different to what other people were making at that point. I think they were just two club kids who wanted to kind of try and put across what they were hearing in clubs, basically.
Mothership Reconnection (Feat Parliament/Funkadelic) (Daft Punk Remix)
Scott Grooves
Initially, they were using very, very basic equipment. One of the first times [they played us their music], Thomas showed me a Ghetto Blaster. I said, "Where's the speakers for the studio?" And he pointed to a Ghetto Blaster and said, "That's it." And I was like, "Whoa, whoa. Wait a minute." He goes, "Well, you know if it sounds good on that, it's going to sound good on anything." So, I guess he had a point. But it was quite rudimentary.
The first ever gig we did with them was a boat party on the Renfrew Ferry. Then we did another show with them at a club night in Glasgow, at a place called The Arches. And they were starting to get a little bit bigger [by that point].
They weren't really DJs, so they basically made a live show with their own material and other people's material as well. So it was kind like a collage, and it was really, really great. Again, it was very rudimentary. There was no computer. I think they were using the Roland TR-909 [drum machine] as a sequencer, which you can do. You can trigger samples and all that kind of stuff. I think it was an SR-10 sample.
We had a birthday party at The Arches and they came over just to hang out and stayed at my flat, and then shortly after that we went to visit them in Paris and spoke with their dad. I think Thomas' dad was somehow involved in the '70s with disco music. [Ed: Bangalter's father, Daniel Vangarde, released several pop albums in France in the '70s and '80s]. His dad was very influential in guiding them towards an agent and just being music business savvy. And at that point there were lots of faxes coming through, remember them? You could really feel the heat coming on. They were recording at the time in a place where they were used to make Asterix, the French cartoon. And the music, it wasn't the DJ Sneak records or stuff like that. So, you could tell at that point that they were definitely on the rise.
Da Funk
DAFT PUNK


I think if there was a definitive point that put Daft Punk in people's psyches, it was when we heard "Da Funk." It was not only different from anything that was coming out on Soma at the time, but also different from anything around here, period. I mean given the fact the tempo is only like 110 BPM, that in itself was really quite unusual in approach. But it was also different in feel. It was somehow more unique, you know. The initial Daft Punk tracks had a common thread that you could link back to what you were hearing in the clubs. But when you heard "Da Funk," you were like, "Whoa, this is really something quite special and different."
Indo Silver Club
DAFT PUNK
Thomas came into the studio one day when we were working and he played me sections of the tracks on Homework. He's like, "Oh that one is not edited yet. Wait 'till you hear this." It didn't sound like an album to me, you know. Because "Around The World" wasn't on there, and there were a few other tracks that were on there. So I wasn't sure at first how it was going to sound. I mean, it was all in Thomas' head. But I had heard all the pre-edits and the existing tracks that we had for Soma. So when I heard the album completed I could completely understand the vision.
When you listen to Homework, there are quite a lot of Soma tracks on there. And of course we tried to keep it. We ended up doing a sort of co-thing with Virgin, where Virgin put the [Soma] logo on the album. But I think the eventuality of them moving onto to a bigger label was a certainty, you know. The intention was always to release maybe two singles with the guys. They were fans of the label. We had a record called "Positive Education," which they loved. And they wanted to do an underground release to start with. But again, Thomas' dad's influence was always that they wanted to be on a major label. I mean, they'd been in a band before.
Rollin' & Scratchin'
DAFT PUNK
Before Daft Punk there weren't too many people overusing compression. That was a big signature of their music. They have always had that attention to detail. Thomas would talk for hours about compression or a snare sound. Why? He'd be like, "Yeah, if you touch the knob here or you do this or you do that…" So there's always been that with the guys. And I guess, you know, now that they can afford like a bigger budget or, you know, go into a bigger studio, it's just a learning curve, isn't it?
My opinion of Daft Punk is that they're like what Kraftwerk were in the '70s. Not strictly speaking because of the musical content, but more to do with the enigmatic approach that they had with things, and the fact that they had so much of an influence on other music. If you listen back to the '70s and you listen to Kraftwerk, it spawned a whole series of music. And Daft Punk did the same thing. Even still, you listen to the charts and you can hear shades of Daft Punk.