Le utilizziamo oramai da anni, se non ci fossero bisognerebbe inventarle, come direbbe qualcuno, parliamo di loro, le Onde Wifi, ovvero le onde presenti nell'atmosfera di origine elettromagnetica di cui non possiamo più fare a meno, e grazie alla scienza dell'i informatica e telecomunicazioni possono essere sfruttate wireless, termine inglese che vuol dire senza fili indica una comunicazione tra dispositivi elettronici che non fa uso di cavi. Ma come sono fatte queste onde radio, qualcuno se l'è chiesto, bene oggi vi mostriamo che sono visibili, grazie agli scatti dell'artista e blogger americano di MyDeals.com,
Nickolay Lamm
, che ha provato a modificare le foto di Washington DC visualizzando con precisione le onde: ecco
The Mall
, l'enorme prato davanti al
Campidoglio.
Come è visibile, le onde sono milioni e si intrecciano in danze e colori straordinari, capaci di regalare immagini davvero suggestive.
"Mostrare come appare come un'onda WiFi permette anche a me di dimostrare quello che può la tecnologia di oggi , "ha detto Nickolay Lamm. " Ho cercato su google 'Come possiamo vedere le onde radio?' e non ho trovato nulla, così ho deciso di creare io una sorta di metodo per immortalarle ", dice.
Per queste fotografie raffiguranti onde colorate, l'artista ha collaborato con Marilyn Browning Vogel, astrobiologo e ex dipendente della NASA. Con il suo aiuto, ha usato viste 3D di Washington e mappe del governo per ricreare la dimensione e la frequenza delle onde. -" Mi ha dato tutti i dettagli. Sono sicuro che approva tutte le immagini. Lei mi ha guidato nel mio percorso in modo molto preciso, scientificamente parlando ", dice l'artista, presa da Fastcoexist . Come risultato, il paesaggio della capitale federale degli Stati Uniti si trova delle linee guidate e immersa in bolle blu, rosso, giallo, verde ... Le immagini illustrano perfettamente come il nostro ambiente è invaso da onde.
Angela Acanfora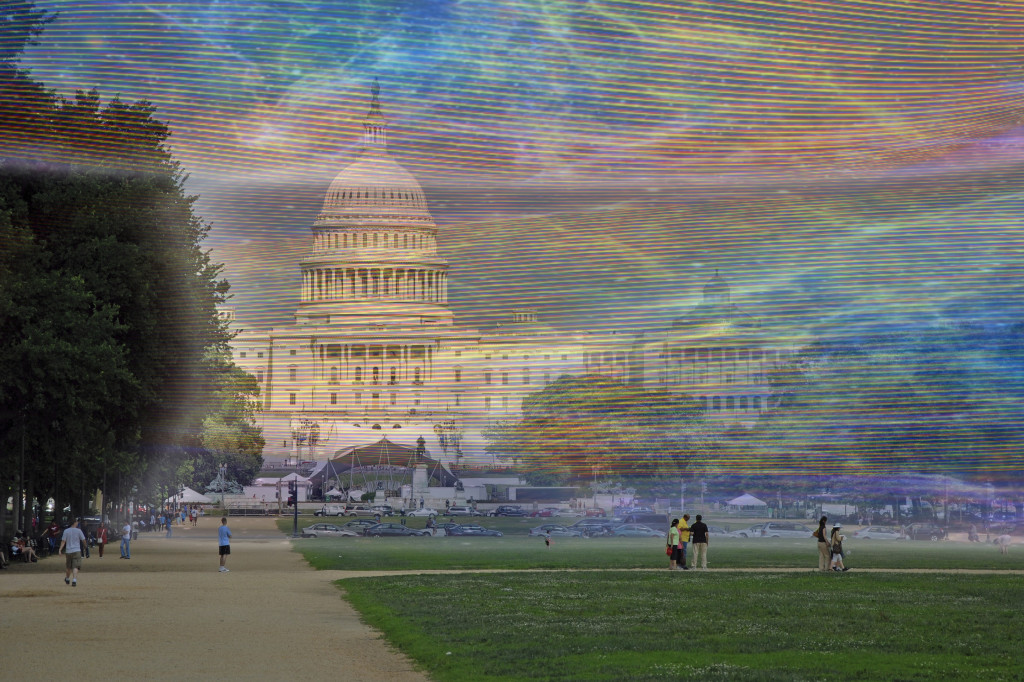 We use them for years now, if there were to be invented, as some would say, let's talk about them, the Waves Wifi, or waves in the atmosphere of electromagnetic origin of which we can not do without, and thanks to the science of 'the iT and telecommunications can be exploited access, the English word which means indicates a wireless communication between electronic devices that does not use cables. But as I made ​​these radio waves, if someone is asked, well today we show you that are visible, thanks to shots of the artist and blogger American MyDeals.com, Nickolay Lamm, who tried to edit photos in Washington DC displaying precisely the waves here is the Mall, the huge lawn in front of the Capitol.
As can be seen, the waves are millions and intertwine in dances and stunning color, able to give really striking images.
"Show how it looks like a wave WiFi also allows me to demonstrate what can today's technology," said Nickolay Lamm. "I googled 'As we can see radio waves?' and I have not found anything, so I decided to create a kind of method I for immortalarle "he says.
For these photographs depicting colorful waves, the artist has worked with Marilyn Browning Vogel, astrobiologist and former NASA employee. With her help, he used 3D views of Washington and maps of the government to recreate the size and frequency of the waves. - "It gave me all the details.'m Sure that approves all images. She guided me in my journey in a very precise, scientifically speaking," says the artist, taken from Fastcoexist. As a result, the landscape of the federal capital of the United States is guided lines and bubbles surrounded by blue, red, yellow, green ... The images illustrate perfectly how our environment is flooded with waves.